Future of mobility trends
Key findings for industries in the future of mobility ecosystem
If you're part of the global mobility ecosystem—or would like to be—get ready for a sea change that extends far beyond trends in the automotive industry.
What is the future of mobility?
The extended global automotive industry is undergoing an unprecedented transformation to a new mobility ecosystem, what we call a new age of accessible autonomy driven by social trends and the driverless revolution. The pace of change is breathtaking, as established leaders and nimble disruptors make bold plays to win and governments look to catalyze the future of mobility.
What will the future of mobility look like for you?
Frictionless, automated, personalized travel on demand—that's the dream of the future of mobility. And the extended auto ecosystem's various elements are coalescing to realize that dream sooner than expected, which means that incumbents and disruptors need to move at top speed to get on board.
Interested in learning more?
We recommend starting with the two articles on the right to learn more about the key trends that are driving the tuture of mobility. These key pieces lay out Deloitte's overarching future of mobility perspective.
So what does all this mean?
Across the ecosystem, from auto retailers to insurance to finance, businesses are watching automotive industry trends and realigning to remain competitive and viable as the future of mobility unfolds. Companies that are preparing now—deciding where to play, transforming operations, implementing new technology, refocusing talent and marketing—will be well positioned to win.
We anticipate four phases will coexist as the future of mobility ecosystem evolves:
Move to win in the future of mobility ecosystem
Established industry players and newcomers are already moving quickly to seize opportunities as they arise and to stay ahead of auto industry trends in the new personal mobility landscape. When thinking about how to win in the new ecosystem, consider a variety of elements:
Strategic design
As you assess what the future of mobility means to you and your industry, Deloitte's member firm network can help you think through strategy and how to best position your business for the future by:
Defining opportunity spaces—where to play and how to win
Identifying key capability gaps and develop execution roadmaps
Defining innovation plays                   
Business and operating model transformation
For most businesses, successfully preparing for the future of mobility will require transformation, including:
Integrated functional management—business processes, human capital, and technology systems
A performance management framework and scorecard focused on targeted business outcomes
Commercial model based on strategic choices
Future state operating model design
Socialization and communication strategies for future state operating model
Solution architecture and integration
Our network of professionals can help you establish the technology solution best suited to your chosen targets in the future of mobility ecosystem:
Develop future of mobility solutions for you or in collaboration with your team
Identify technology and solution partnerships and alliances
Capacity building
As you actively begin to organize for the future state of mobility, you will likely require assistance with:
Support for future state operating model
Talent strategy
Enhancing technology system platforms
The Future of mobility
The entire way we travel from point A to point B is changing, creating a new ecosystem of personal mobility. The many impacted industries should reconsider how they create value in this emerging environment.
Explore more future of mobility publications
Recommendations
The future of mobility ecosystem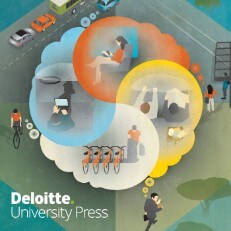 Tomorrow's mobility ecosystem—and how to succeed in it