So you're not into great user experiences?

Or are you?
So, you are interested?
Constructing a personalised user experience is crucial. Are you ready to join Deloitte and envision and design the most valuable user experiences?
mytax.brussels – Delivering the best user experience for 400,000 tax payers
Providing a personalised user experience can make a huge impact.
In the Brussels-Capital Region, approximately 400,000 people pay real estate taxes. While they used to have to rely on postal mail, phone calls and visits to the counter to access their tax details and interact with the Tax Administration, they now enjoy a great user experience with mytax.brussels.
Designed by Deloitte together with the tax department of the Brussels-Capital Region, using design thinking methodology and with the focus firmly on the end-user, the platform represents a huge step from traditional to digital. The citizens are now well-equipped to manage their real estate taxes.
Empathy in UX design
The challenge was to identify how to design a platform that could address the needs of such a large target audience, needs that vary significantly from one segment to another.
To ensure the platform would exceed all expectations, our team that designs digital products started by answering these questions:
Who is our target audience and what are their needs?
How can we improve the experience of these end users?
What should the solution look like? What does the user think of these solutions? Which solutions bring most value and which ones should be prioritised and brought to life?
Our service designers knew that they had to listen carefully and be empathetic when talking to end users so that they would be able to envision and design the most valuable user experience.
With the answers in mind, they put their unique skills to use, designing mytax.brussels. This platform was developed with the Deloitte Digital Studio, which combines design thinking and agile delivery to transform ideas into prototypes, and then into a minimum viable product (MVP).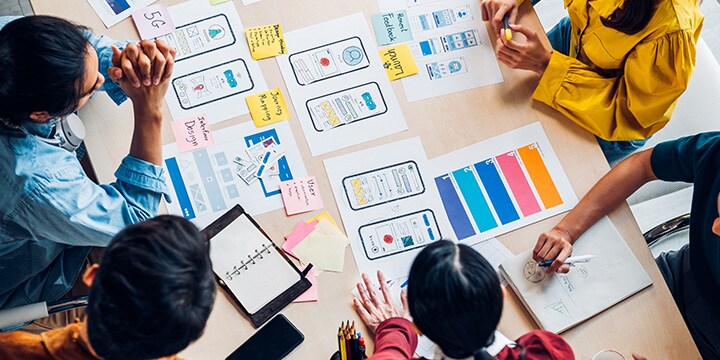 This is Sophie, Senior Service & Experience Designer at Deloitte, who worked on this project. Want to create the best user experience with her? Do you? Or don't you?
Working at Deloitte
At Deloitte, everyone brings a diverse set of skills to work every day. You'll also find diversity in clients, projects and a whole world of new connections. It means you'll work with the best in the business to solve the toughest problems in business. You'll move up, on and sideways, depending on where you see yourself next. You'll make big decisions and your own work-life choices. You can make the unique impact you want!
Life at Deloitte
Not exactly what you
were looking for?
Our ambassadors
Ada makes an impact by solving long-standing issues, working together with great people to drive the change of tomorrow. You too could solve issues that organisations have been struggling with for years and drive the change of tomorrow. Watch this video to learn more.