Social Progress Imperative
Deloitte's Strategic Partnership with SPI
Deloitte is committed to making an impact that matters in society. Addressing complex societal challenges requires collaboration and no sector can do it alone. Deloitte Global and its member firms work closely with Social Progress Imperative, a non-profit organization committed to changing the way we measure what matters most to global and local communities around the world.
Who are the Social Progress Imperative?
The main mission of the Social Progress Imperative (SPI) led by CEO Michael Green, is to measure and advance social progress and to improve lives through the provision of robust, holistic and innovative measurement tools that equip leaders and change makers in business, government and civil society to advance progress. Original collaborators, who now sit on the Advisory Board and Board of Directors respectively, include Harvard Business School Professor Michael Porter and Economist US Business Editor and New York Bureau Chief Matthew Bishop.
What is the Social Progress Index?
Relying only on a country's GDP as the measure of advancement provides an incomplete picture of human, societal and environmental progress. Designed to complement GDP, the Social Progress Index provides an authoritative view on the things that matter most to people, across three key dimensions and twelve components: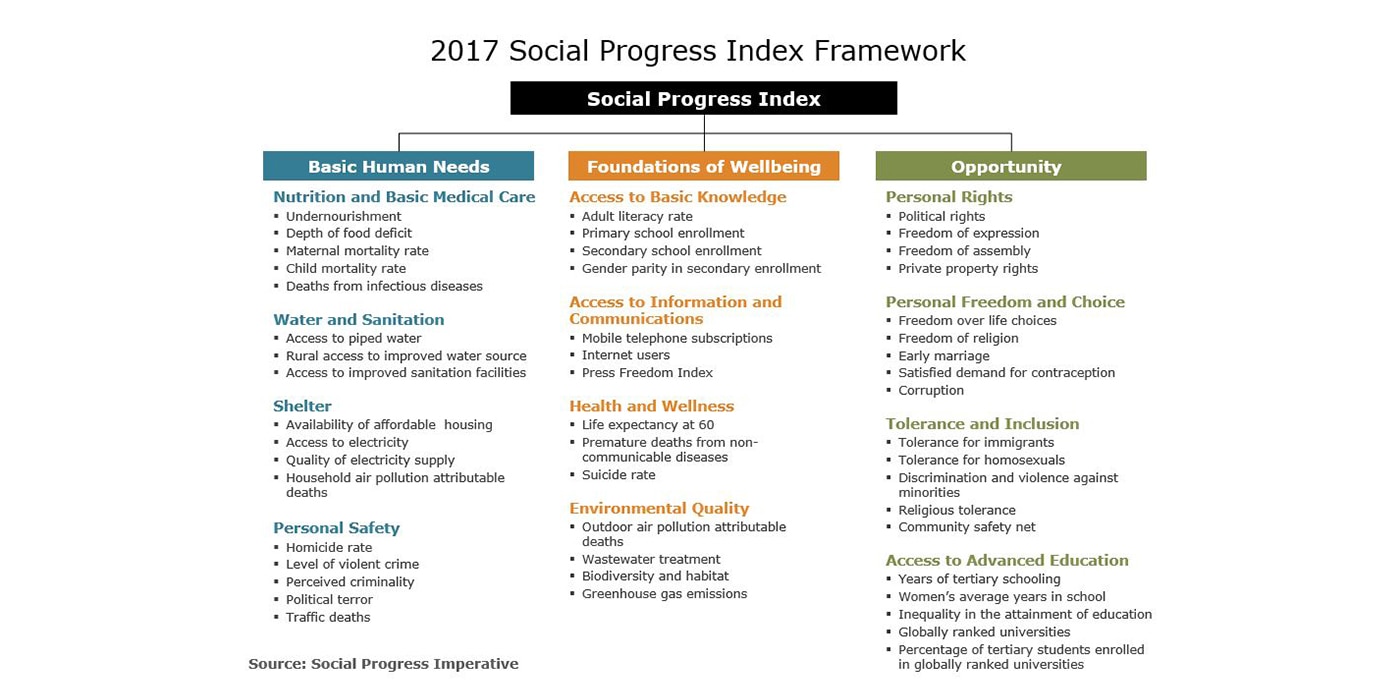 The Social Progress Index uses 50+ societal and environmental indicators to measure 128 countries, covering over 94% of the world's population.
Custom, subnational indices also provide tailored, local measurement allowing highly targeted investment and intervention, examples include:
How does the Social Progress Index make an impact?
From INDEX to ACTION to IMPACT is the Social Progress Imperative's rallying call. The Social Progress Imperative is not simply about numbers and measurement; it is about what those data tell us and how we act differently as a result.
The Social Progress Index:
Empowers leaders to convene all the right local actors, global partners, and subject-matter experts necessary to develop and deploy meaningful solutions, through collaborations.
Develops a common language which government, business and civil society can use to communicate with each other more clearly on the issues that matter.
Acts as a road map to guide leaders' resourcing, collaboration and investment decisions through enabling leaders to systematically identify and prioritize issues through the Social Progress Index.
Why is Deloitte collaborating with SPI?
Business and social progress are linked; fundamentally we believe that social progress is the foundation of competitiveness and stability.
Economies cannot thrive without healthy and well-educated citizens, adequate infrastructure, effective legal systems, peace and tolerance. These are the basic pre-conditions for investment and entrepreneurial activity in an economy over the long term - sustainable growth will only follow where people are ready and able to engage in the economy with the resources they need.
We believe therefore that business has the imperative to help address the challenges society faces. It also has the power to do so.
The Deloitte network does this every day through client service work, strategic sponsorships and corporate responsibility programs. These activities provide the opportunity for our people to use their expertise and insights, and engage their networks, to address issues that matter most to society. We are not alone in this. An increasing number of CEOs of major companies recognize that 'doing business better' not only produces better returns, but attracts better talent, helps restore public trust in business and adds real value to society. Social challenges also present clear business opportunities for companies that understand sustainable change can be met through innovative products and services.
But business cannot, and should not, do it alone. The business community should actively collaborate to drive policies and initiatives that seek to address and improve the wellbeing of society.
To this end, the Social Progress Index can help:
Enable governments to drive development through using social progress as a tool to attract Foreign Direct Investment. In addition it can support businesses on strategic choices around market entry and mitigation of supply chain risk. For more information see our 'FDI and Inclusive Growth' report which looks at the relationship between social progress and Foreign Direct Investment.
For further information on how we can use the Social Progress Index to help our clients and society, see our Collaborations page.

"Deloitte is collaborating with the Social Progress Imperative and others because we believe business has a role to play in helping solve the world's critical issues and the Index is a tool that can ignite collective action from business, government, and society."
David Cruickshank
Global Chairman, Deloitte Global