3 min read
Sharing our compass with Ireland's young offenders
Breaking down barriers through access to opportunity
Solas Project is a charity that Deloitte Ireland have been working with in the last number of years to make a difference in young people's lives to support them in achieving their potential.
Solas Project's mission is one of placing high value on self-worth, character and motivation. They work to support young people in creating a brighter future for themselves and their communities, aligning to Deloitte's WorldClass commitment of investing in education, skills development and access to opportunity.
Having initially engaged with Solas Project through their Solas@School programmes, we broadened our reach by stepping into the Irish Prison system to engage with young men in the hope of helping to break the cycle of recidivism. Our ambition in collaboration with Solas Project was to do this by sharing our people's skills, showing compassion and supporting them in creating opportunities for themselves.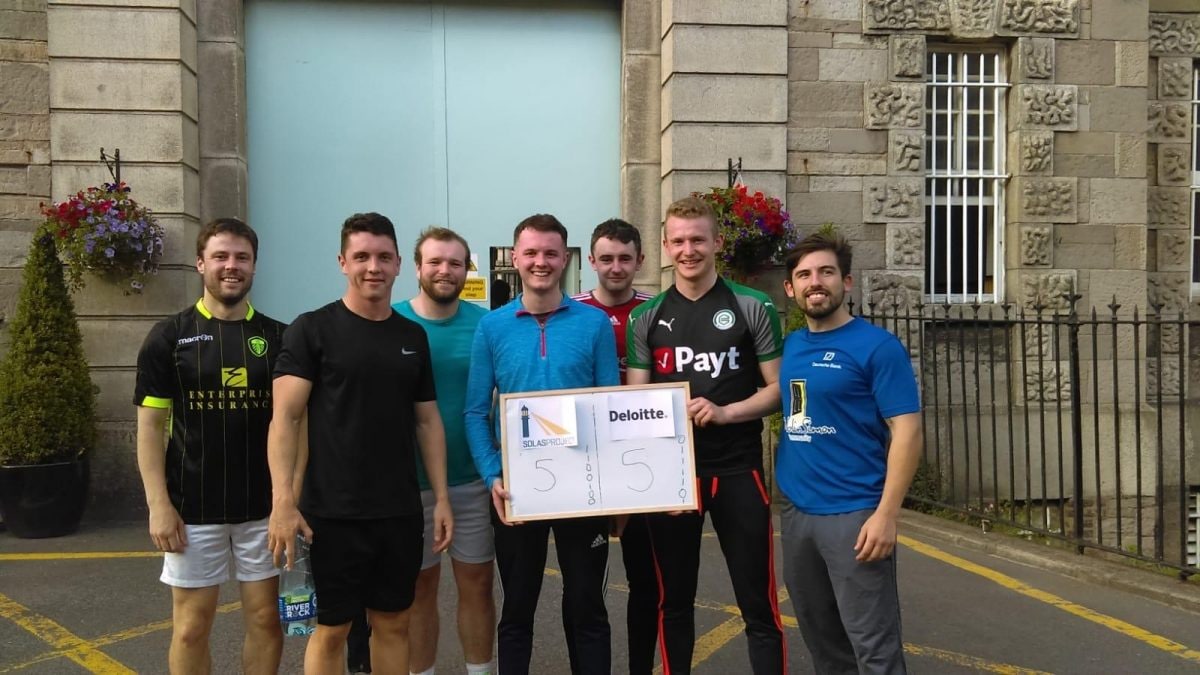 Our first involvement in the Solas Compass Programme was in 2018, where we signed up to take part in an 11-a-side football match in Wheatfield Prison, located on the outskirts of Dublin city, a closed, medium security place of detention for adult males and for sentenced 17 year old juveniles. For some of these young men, the interaction with the members of our Deloitte volunteers may be the only visitors that they get that month – which our volunteers take very seriously and see as a great privilege. Fast forward to 2020, we now play these football tournaments in both Mountjoy Prison and Wheatfield Prison, which has not only broadened our impact but has shown us just how important it is to continue these engagements and our partnership with Solas Project.
Our involvement with the Solas Compass Programme has since taken a step further. Róisín Fitzpatrick, a director in GES Tax, has developed an Education and Employment Skills Programme in conjunction with Solas Project with the goal to teach 17-23 year old offenders employment, entrepreneurial, presentation and communication skills over a period of six weeks. Since its development, Róisín and the Solas Project team have run three pilot programmes in two prisons in Dublin, supporting around 20 young men. Róisín along with a group of Deloitte volunteers helped the participants build curriculum vitaes, develop business plans and practice their interview skills. By treating the participants with respect and dignity, and supporting them in building their confidence, this programme gives them an opportunity to learn the skills they will need once they leave prison. Following the completion of the pilot programmes, prison officers have noted an increase in the young offenders' confidence, improved behaviour in custody, as well as the development of their presentation skills, while our volunteers have been able to gain a greater insight into just how challenging life can be for these young men.

"Our partnership with Deloitte has truly enriched our Compass Programme. The Employment Programme, led by Róisín, was really significant for the young people who participated. It took their current experience on our in-prison barber programme and helped them to focus in on the skills they had learnt and how they could apply them in the outside world. The programme helped to draw out the existing talent and motivation of the young people involved, building their confidence in the process"
Understanding and empathising with the challenges that others may be facing is a very important attribute to encourage within our own teams in Deloitte Ireland and therefore engaging in this programme has been an excellent way for our people to work as a team purely for the benefit of others. By committing to living our Deloitte purpose of Making an Impact that Matters, our people have adapted the belief that there is opportunity for everyone if provided with the right skills and are proud to be the people to develop these skills with some of the young men in Ireland's prisons.
"At the end of one of the programmes, the participants ran a business pitch. We asked the governor and a number of prison officers along with the CEO of the charity to be the dragon's den judges. There was that great feeling of tension and excitement in the room that you get when someone is making a pitch. Everyone wanted them all to do well – including the prison officers. I realised that the young men had never really had this moment of everyone – from prison staff to themselves – being united in the hope that they would succeed. And the impact that had to their self-confidence and self belief was huge."
Contacts
Claire Bergin
Corporate Responsibility Lead / Senior Manager
Daisy Grehan
Corporate Responsibility Assistant Manager