The Talent Internship 2021 Program was all about ensuring our interns feel 'Deloitte-d', albeit virtually. Our 2021 batch of interns described the experience as exhilarating, insightful, engaging, challenging, as well as rewarding. Let us introduce you to the program through the lens of our interns themselves.
We connected with our interns virtually to know their thoughts on the internship experience.  Their responses did indeed fill our appetite for feedback. Here's what they had to say:
What did you like the most about the organization and the internship program?
When we asked our interns this question, Deloitte's culture was one aspect that resonated with all the interns. One of them expressed, "The culture of inclusivity and everyone being ready to help you facilitated a strong sense of belonging at Deloitte." 
Distinct business projects gave the interns exposure to the professional world. They also appreciated having a program structure and clear objectives. Receiving laptops for the duration of the internship was a cherry on top for some. The various aspects and experiences led to an insightful and seamless talent internship for the summer interns.
What expectations did you have from your summer internship and what are your comments on the experience?
For one of the interns, the internship experience was beyond their expectations. They were expecting to implement academically learned knowledge by working on a practical project while learning about the industry from a vast network of experienced professionals and leaders. Not only did the program deliver on said expectations, but it went beyond—the intern was able to hone a few professional attributes and learn some tips on working successfully with colleagues. 
The interns also appreciated how Deloitte contributed to their well-being during the pandemic. The interns, along with their dependents, participated in the vaccination drive. One of the interns narrated her experience as, "I had my vaccine administered on a weekday and I was not feeling well for the next two days. My team stepped up to extend support as I took time off to rest and recover."
Although it was an all-virtual experience, how did we fare on enabling you to feel supported and connected?
Some interns mentioned that they were apprehensive about a few aspects, given that the summer internship program was all virtual this time. They were skeptical about how to network, and how will they be supported by colleagues. 
To their surprise, the interns were happy to discover that at every touchpoint, they had a point of contact whom they could reach out to. Moreover, there were ample engaging and fun sessions which made interaction and networking a breeze.
The interns felt it was easy to approach their colleagues despite the virtual environment setup. As one intern puts it, "The ease to connect with anyone anytime, across levels, and the way in which they would say 'Welcome to Deloitte' was heartwarming." 
Regular connects with their respective buddies and mentors helped the interns bridge the gap for enhanced virtual collaboration. One of the interns aptly described it as, "Everyone was just a ping away and so, I did not feel any drawbacks of a virtual internship while networking."
What were some of the initiatives that made the internship a memorable experience for you?
Virtual does not necessarily mean boring. Through various initiatives, we were successful in helping interns feel engaged even in a virtual environment. The interns were thrilled with the 'Back to School' themed weekly fun events like Sports Day and Annual Day conducted by the Talent Internship team–these connects fostered bonding, along with serving as an avenue for respite from the fatigue of working in isolated virtual environments. An exciting mystery-themed evening with the team is what the interns shared as an evening that they will remember us by for a long time.
How would you summarize learnings from the internship?
Taking back valuable lessons and gaining practical knowledge are some of the most important expectations any intern is likely to have from the program. 
We were elated when we heard our interns express how we had fared well. They benefitted from learnings and valued key takeaways from various sessions–Business Chemistry, Diversity & Inclusion, Storyboarding training, Talent talks by leaders on topics such as 'Hiring and retaining top talent', and Alumni connects. 
Few interns also got the opportunity to be in the 'Student Question Panel' for an 'In Conversation series' with a Deloitte leader. This was an interactive platform for these interns to have a tête-à-tête with leadership and take back valuable lessons. They summarized lessons on professionalism, time management, networking, data visualization, and professional presentation skills as key takeaways.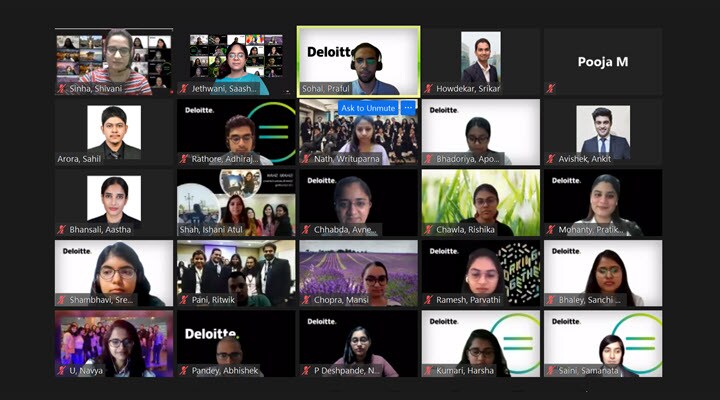 So overall, were we successful in enabling you to feel Deloitte-d this summer?
An intern said, "The number of training sessions that were conducted for us to better understand the Deloitte culture, despite the duration of the internship, was commendable". One intern summarized that all these initiatives gave the interns "a colorful glimpse of Life at Deloitte."
Embracing Deloitte's culture of recognition, the interns also leveraged Deloitte's internal platform to express gratitude and share shoutouts in an attempt to recognize all those who helped them navigate their way through the summer internship at Deloitte.
We thank our interns for spending their summer with us and for sharing their experiences with us. Here's wishing a successful career journey ahead to all of them.
Learn more
Interested to know more? Head over to the Internships at Deloitte page to discover what a career with a professional services organization could turn out to be.
Watch a host of videos to get a glimpse of Life at Deloitte. Head back to the blog to discover more.
Want to stay updated with the latest at Deloitte? Follow us on LinkedIn.