'My decision to retire in January 2022 after serving for a decade in the Indian Air Force (IAF) was more spontaneous than deliberate. I was stepping into an absolutely different ecosystem with my share of excitement, acceptance, and utmost curiosity. When I joined Deloitte, my anxieties succumbed naturally to the inclusive culture and supportive environment prevalent in the organization and ensured a seamless transition for me.' It's been 11 months since Deepti changed her career trajectory from military to corporate. Now, as a mother of a three-year-old and a working professional, she reflects on her journey and her decision to join the corporate world.
Joining the military was a decision that came out of the blue when her father challenged her to move out of her comfort zone and take the Air Force Common Admission Test. Owing to her personality, the sound of a challenge amped her up, and in a few months, she was on her way to the Air Force Academy, Hyderabad, for her first military training. She was commissioned in the Indian Air Force in the Aeronautical Engineering (Electronics) branch, specializing in surface-to-air guided weapon systems. She became a Missile Firing Officer (Surface to Air Missile) with the highest proficiency level. As a squadron lead, she led the Professional Skill Upgradation Program of the officers and staff of IAF on complex engineering systems (Air Defense Missile System), led the Combat team during a strategic operation (2019), and achieved her dream of becoming a certified skydiver. She embraced challenges and turned them into wins.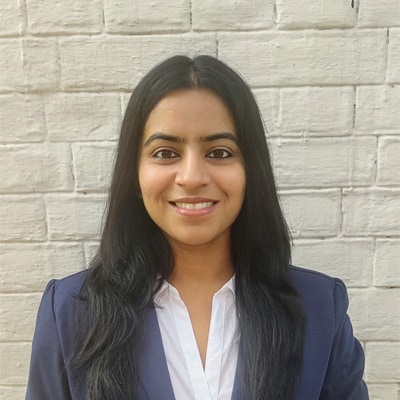 Deepti Sharma

After a decade of serving the nation, Deepti retired from the military, completed her transition course, and secured a campus placement from Deloitte. With the offer in hand, she was charged up and ready to take up the new role, but she knew this was new territory for her. With a whirlwind of questions and thoughts brewing in her mind, she courageously marched forward with the confidence of a squadron leader, and an open mind to learn, experience, and grow.
In the corporate world, her learnings from the military serve as a guide toward being more efficient. From project management skills which help her manage Cyber projects in AI CoE to deliver on time in budget deliverables, to critical decision-making skills that come into play when forecasting budgets, she has numerous learnings to reflect upon.
'In my 11 months here, I've seen my team leads and colleagues stand up for one another. It's a camaraderie that reminds me of my military days. While I'll always be proud of serving the nation, I am equally excited about my future at Deloitte. I'm thankful to the resource groups, and seamless integration, and assimilation, I've experienced here' says Deepti. These days, when she's not strategizing and leading projects at work, she likes to sit her three-year-old down and share stories of adventure from her days in the military. 
At Deloitte, Deepti works as a technical project manager in the Artificial Intelligence Centre of Excellence in the Advisory business to drive cyber projects to success and enhance the implementation of AI models and engagements.
The views expressed here are of the author and do not necessarily reflect the views of her current, former, or future employers or any organization with which she is associated.