A path to the cognitive enterprise
Robotic Process Automation
Bots can automate routine tasks and eliminate inefficiency, but what about higher-order work requiring judgment and perception? Developers are incorporating cognitive technologies, including machine learning and speech recognition, into Robotic Process Automation (RPA)—and giving bots new power.
Robotic Process Automation

RPA tools interact with existing legacy systems at the presentation layer, with each both assigned a login ID and password enabling it to work alongside human operations employees
A proof-of-concept RPA project may take as a little as two weeks; a pilot could be up and running within four to eight weeks
Bots can perform only tasks with clear-cut rules. This means that processes that require human judgement within complex scenarios cannot be automated through RPA alone.
Enterprises are beginning to employ RPA together with cognitive technologies to automate perceptual and judgemental-based tasks once reserved for humans
Cognitive RPA has the potential to go beyond basic automation to deliver business outcomes such as greater customer satisfaction, lower churn, and increased revenues.
Leading RPA vendors are incorporating cognitive technologies such as natural language processing and machine learning into their offerings.
The potential benefits of deploying cognitive technologies through RPA frameworks include faster implementation with less effort and more rapid ROI than either in-house development or platform investments.
How we can help
Deloitte provides Robotic and Cognitive Automation (RCA) services to help our clients address their strategic and critical operational challenges. We help clients in a number of ways, ranging from shaping automation strategies and identifying key opportunities to designing and implementing robotic and cognitive enabled business operations and processes at scale, as well as providing robust automated managed services. Our approach places business outcomes and successful workforce integration of these RCA technologies at the heart of what we do, driven heavily by our deep industry and functional knowledge. Our thought leadership and strong relationships with both established and emerging tool vendors enables us and our clients to stay at the leading edge of this new frontier.
Recommendations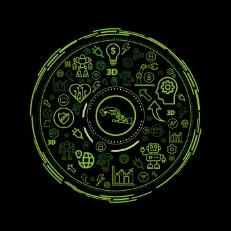 Preparing your organisation for the new worker ecosystem