Host: Mike Danitz, principal, Deloitte Consulting LLP
Presenters: Griffin James, Marsha Wadsworth
1 Overview CPE credit | Specialized Knowledge
Many companies are looking toward longer-term decisions that will shape corporate real estate portfolios, operations, and workplace technology strategies. What are key areas corporate finance and real estate leaders should be thinking about to thrive longer term? We'll discuss:
How expectations of corporate real estate are changing, the implications, and emerging capabilities needed to respond
What effective partnership between real estate, finance, and other functional teams looks like
How digital technology and analytics are accelerating value creation from the real estate portfolio and workplace
Meet the host and speaker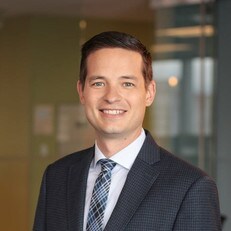 Mike Danitz
Principal | Finance & Enterprise Performance
Mike Danitz is a Principal in the Finance and Enterprise Performance practice within Deloitte Consulting LLP. He is a leader in helping CFOs and their teams navigate and implement digital solutions across the finance function. His experience within the Technology, Media and Telecommunications sectors includes identifying, designing, and executing finance transformation programs that deliver next generation capabilities to Finance.
Griffin James
Senior Manager | Real Estate & Location Strategy
Griffin James is a senior manager in Deloitte Consulting LLP's Real Estate & Location Strategy practice. With over 20 years of real estate-related experience, Griffin has driven substantial enterprise value for his clients through the design and optimization of corporate real estate and facilities operating models, service delivery and outsourcing strategies, portfolio and workplace optimization, and real estate technology strategies. Griffin is a frequent speaker and author on trends related to real estate, workplace, and performance improvement. He is a faculty member with CoreNet Global's Master of Corporate Real Estate (MCR) professional development program.