Host: Thomas Schoenwaelder, principal, Deloitte Consulting LLP
Presenters: Andrew Blau, Ira Kalish and Lauren Lubetsky
1 Overview CPE credit | Business Management & Organization
US inflation has risen sharply, with prices up 6.8% YoY in November 2021, the highest rate in nearly 40 years. The ongoing COVID-19 pandemic has led to both supply and demand-side shocks and persistent uncertainty about what's to come. Deloitte has developed a set of scenarios that describe different ways inflation could evolve between now and late 2024. We'll discuss:
The critical uncertainties likely to impact the future of US inflation
Four different scenarios for the future of inflation and implications of each for large organizations
Recommended actions in each scenario across business functions
Tom Schoenwaelder
Strategic Growth Transformation Leader
Tom is a New York based principal at Deloitte and leads the Strategic Growth Transformation market offering at Monitor Deloitte. Previously, he was a partner at Monitor Group, where he consulted for 14 years and was co-head of Monitor's New York office. Tom focuses on working closely with senior leadership teams to develop their growth strategies and architect the enterprise-wide transformations. Tom has worked over a wide range of sectors spanning manufacturing; oil and gas; retail; travel, leisure and hospitality; consumer goods; financial services; and media, with a particular focus on consumer industries. He has helped clients accelerate growth in their core business, plan category, channel and geographic expansion programs, design new business models to pursue transformational growth opportunities, and revive underperforming businesses. Tom has worked extensively with client teams in North America, Europe, and Asia. Recent engagements include engineering a digital transformation for one of the world's largest CPG companies, an innovation-led transformation for a large oil and gas player, transforming the customer experience for a leading US retailer, building a new US business for a leading Indian conglomerate, developing emerging market business models and entry strategies for a global consumer and industrial products conglomerate, and redesigning the customer experience for one of the world's leading airlines. Tom is a frequent speaker on the topics of strategy, innovation, and business transformation. Tom has worked in Boston, Frankfurt, Moscow, and New York and has also lived in South East Asia for many years. Tom holds a BA from Harvard University, and an MBA from Kellogg. He currently lives in New York City with his wife Zeynep and sons Alexander, Theo and Markus.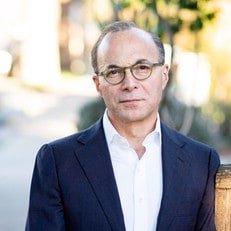 Andrew Blau
US Leader, Eminence & Insights, Deloitte Consulting
Andrew leads Eminence and Insights for Deloitte Consulting, where he helps develop and sharpen Deloitte's perspectives on the most important issues shaping organizations and markets. Previously, he launched and led Deloitte's Strategic Risk Solutions practice, created to help senior executives and boards spot and prepare for disruption and other threats to their competitive position and business model. He also served as senior advisor to the Chief Strategy Officer, guiding internal efforts to develop and refine strategy for Deloitte and many of its practice areas. His advisory work has ranged widely across topics and sectors, covering issues from the future of global commerce to the future of transportation, the future of energy, the future of media, and the future of health and healthcare. He led the team that created "The World Remade by COVID-19," which imagined how the global pandemic could change business and society in the 2020s, and co-led the team that produced "The Equity Imperative," Deloitte's 2021 POV about the role of business in promoting a more equitable society. He joined Deloitte in 2013 as a partner in The Monitor Group, a global strategy consultancy, and CEO of Global Business Network, famous for the use of scenarios and other tools that help organizations thrive in a complex, uncertain environment. In that role, he led the largest dedicated scenario practice in the world, helping leaders in industry, government, and philanthropy develop new strategies and prepare for a fast-changing world. He has testified before the US Congress and published and lectured internationally about the trends shaping business and society. He was also the founding president of the board of directors of WITNESS, an international human rights organization founded by the musician Peter Gabriel, and has served on numerous other nonprofit boards and advisory groups.
Ira Kalish
Chief Global Economist, Deloitte Touche Tohmatsu
Dr. Kalish is the Chief Global Economist of Deloitte Touche Tohmatsu Ltd. He is a specialist in global economic issues as well as the effects of economic, demographic, and social trends on the global business environment. He advises Deloitte clients as well as Deloitte's leadership on economic issues and their impact on business strategy. In addition, he has given numerous presentations to corporations and trade organizations on topics related to the global economy. He is widely traveled and has given presentations in 47 countries on six continents. He has been quoted by the Wall Street Journal, The Economist, and The Financial Times. Dr. Kalish holds a bachelor's degree in economics from Vassar College and a PhD in international economics from Johns Hopkins University.
Lauren Lubetsky
Manager | Deloitte Consulting LLP
Lauren is a Strategy Manager at Monitor Deloitte, where she advises Technology, Media/Entertainment, and Consumer companies on their growth, consumer engagement, and digital strategies. She also serves as Co-lead of Deloitte's Strategic Futures offering, which helps clients grapple with uncertainty and leverage market sensing and scenario planning to develop future-proofed strategies. Lauren was one of the primary authors of "The World Remade by COVID-19," scenarios for resilient leaders, which received over 170k views and 90+ pieces of media coverage, including by the Wall Street Journal and Forbes. She has conducted scenario planning across multiple sectors to help clients prepare for the future. She also led the development of "The Equity Imperative," Deloitte's perspective on the role of business in driving racial equity and the bold actions organizations can take to create more equitable outcomes. Lauren received her MBA in Strategic Management from The Wharton School at the University of Pennsylvania and her BA in Philosophy, Politics, and Economics from the University of Pennsylvania.