Deloitte at Amazon Web Services (AWS) Public Sector Summit 2019
June 11-12, 2019 | Washington, DC
As a Platinum sponsor, Deloitte showcased how we help our clients see their possible, and make it their actual at AWS Public Sector Summit 2019. Check out Deloitte's highlights from the Summit below!
Taking the stage with the State of Colorado
Joined by David McCurdy, chief technology officer (CTO) at the State of Colorado, Deloitte presented how the state migrated their integrated eligibility system, Colorado Benefits Management System (CBMS), to AWS.
Watch the video to learn how Colorado employees are able to respond to inquiries quickly and provide better service to their communities.
Connecting with clients to discover what's possible with AWS
CIO/CTO Cloud Roundtable
As cloud becomes increasingly more important for state and local governments, Deloitte hosted C-suite IT leaders (ranging from CIO and CTO to CISO and COO), to discuss their cloud journeys. Through lively discussion, Deloitte state and local government leaders engaged with the representatives to explore key topics such as cloud migration, workforce, security, and economics.
Discover Deloitte's state and local offerings.

Navigating the AI Journey
Disruptive forces, including the adoption of artificial intelligence (AI), are shaping the future of government. During a standing-room only event, Deloitte's AI luminaries shared their perspective on how AI and machine learning (ML) can help organizations improve quality, speed, and functionality to drive mission outcomes for a number of key government and public services (GPS) clients.
Learn more about Deloitte's AI and ML offerings.
Demoing Deloitte's solutions on AWS
Hundreds of attendees visited Deloitte's 20'x20' booth to experience eight demonstrations featuring Deloitte solutions built on AWS for analytics and cognitive, cloud engineering, human capital, cybersecurity, and enterprise performance, showcasing the possibilities of cloud at Deloitte.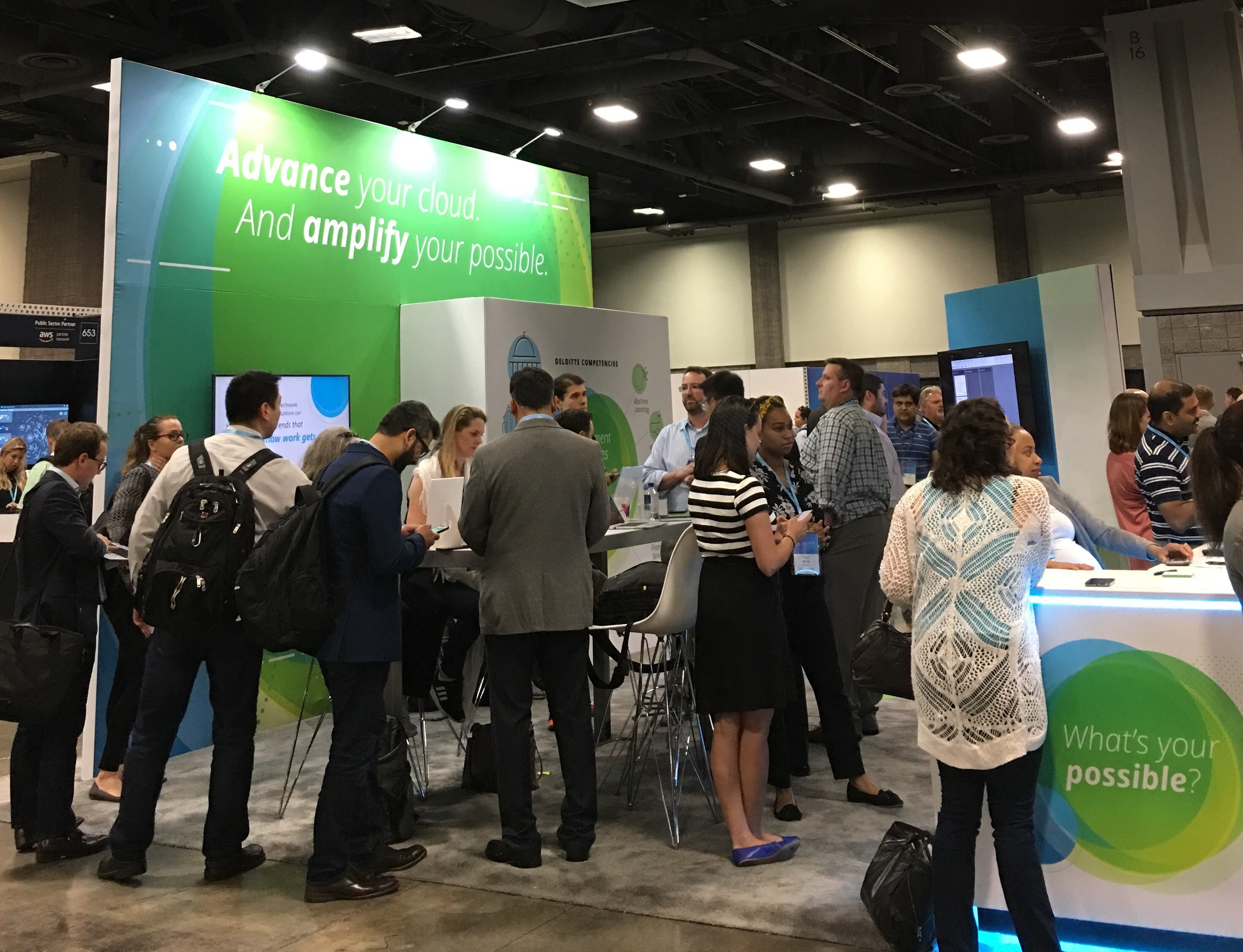 Attendees visit Deloitte's 20'x20' custom booth with demos rotating throughout the Summit.
Deloitte and AWS
Leveraging Deloitte's deep industry experience and the leading-edge capabilities of AWS, we can guide you through your cloud journey step-by-step. Whether you want to start by migrating existing workloads to the cloud or by immediately taking advantage of what cloud has to offer with some native cloud app development, we are ready to engage. From enhancing your infrastructure and quickly migrating legacy apps to launching new cloud-native apps and scaling as your needs evolve, we can help you solve key technology and business challenges that enable a return on investment.
Learn more about Deloitte and AWS.