Cyber Risk for Colleges and Universities
Information security challenges for safeguarding student data and assets
In a world where digital environments are an embedded part of the higher education institution, it's important to protect student, faculty, and research data while allowing space for effective collaboration. While cyber attackers adjust their tactics at an alarming pace, college and university chief information security officers (CISOs) and their security leadership teams also face high expectations from senior academic and administrative leadership to develop and maintain a sound cyber risk and governance regime. Deloitte can help colleges and universities become more diligent and deliberate in being secure and resilient, focusing on policies, and controls to prevent the compromise of their most risk-sensitive assets and operations.
Information security and risk management services for higher education
An integrated approach to risk management for higher education
With several topics in the news that affect higher education such as admissions scandals, student safety, and athletic violations, many higher education institutions are reflecting on their capability to identify and mitigate risks. Those institutions that have implemented risk management structures and capabilities have found enhanced visibility of emerging risks and have identified key strategies for mitigating risks. Learn more about Deloitte's approach to integrated risk management for higher education.
Our work in action: Helping an institution comply with data regulations
Deloitte Risk and Financial Advisory was recently engaged to assist a major higher education system to help facilitate compliance with new NIST regulatory changes across multiple campuses and member organizations that fall within their higher education system's network.
Our work in action: Identity and access management implementation
Deloitte Risk and Financial Advisory was brought in to help establish a foundation for identity and access management (IAM) using a leading identity management solution, and to help implement this new product so that it was poised for future growth and integration.
Concise guide to help higher education address compliance
The changing regulatory landscape will require institutions to remain vigilant. It's important for institutions to be strategic in the adoption of compliance activities by understanding their particular set of requirements and expectations. Deloitte can help higher education institutions understand this dynamic regulatory landscape, and promptly help them achieve compliance by implementing the required compliance activities that can become sustainable and integrated with day-to-day operations.
The Deloitte difference
Deloitte is a leader in cybersecurity, risk, and governance, providing end-to-end capabilities for the spectrum of cyber threats in higher education. Our Cyber Risk Services practice is founded on Deloitte's depth of experience in risk, regulation, and technology. We help colleges and universities achieve the fundamentals faster, by leveraging our engagement accelerators, extensive industry experience, and deep cyber risk domain knowledge to safeguard risk-sensitive assets and operations.
Deloitte Higher Education practice overview
Contacts
Mark Ford
Principal, Deloitte Risk and Financial Advisory
Higher Education
+1 313 394 5313


Richard Rudnicki
Managing Director, Advisory
Please contact for:
Cyber Risk Services
+1 313 396 2519

Cynthia Vitters
Managing Director, Deloitte Risk and Financial Advisory
Please contact for:
Risk Management
+1 571 858 0857
Recommendations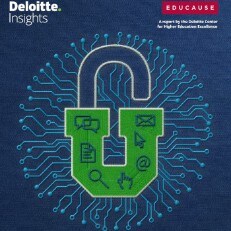 A roadmap for higher education compliance