ARE YOU INTERESTED IN A CAREER WITH MONITOR DELOITTE?
At Monitor Deloitte, we help executives create winning strategies to turn never-before-seen challenges into transformation and growth. We are fueled by our strong foundation of years of experience, extensive industry expertise and excellence in execution.
Are you ready to make an impact that matters? We are looking for top strategy talents to join our team.

WHAT WE WILL OFFER YOU
In Monitor Deloitte, we let you pursue your dream career path in a global, market-leading practice of cutting-edge strategy professionals.
Monitor Deloitte in green glitter for the theme party in Croatia 2022
Astrid & Martina at Consultant Academy 2022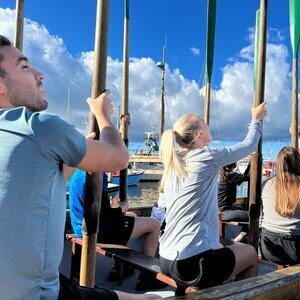 Team building activity 2022
Monitor Away Day September 2022
The Monitor-team at DHL 2022
Monitor at the FSM introweek 2022
Team-event testing out ultimate fristbee
Theme party at the Deloitte Consulting festival 2021
A CLEAR CAREER PATH
In Monitor Deloitte, you will experience a steep learning curve regardless of whether you are a part-time Business Analyst or a Manager.

Frederikke Saust
Senior Manager | Strategy & Business Design
Mads Gøttrup Bagge
Business Analyst