Delivering insightful management reporting
Challenges and opportunities for CFOs
Poor data quality, ineffective technology and talent shortages inhibit effective performance management. They are fundamentally interlinked and difficult to unpick. Determining how to prioritise these issues is a challenge faced by many senior finance executives.
How will you approach these challenges?
How can CFOs overcome these challenges?
Improve data quality to build the foundations of insightful management reporting
Data governance remains a challenge for many organisations. This can undermine the quality and accuracy of finance outputs and results in time-consuming rework and manual manipulation.
Survey respondents indicated that where executive sponsorship is not available it is much more likely that poor data quality impacts management reporting and analysis as well as other finance activities. Even where executive sponsorship is available data quality remains a significant problem that often requires a multi-functional and multi-dimensional solution that changes staff culture, technology toolsets and processes.
Utilize technology to build the foundations of insightful management reporting
Many technologies can be implemented to aid reporting and analysis. There is increased availability of data discovery and visualisation tools that enable finance staff to turn information quickly into insights and to articulate these insights better to stakeholders.
However, survey findings indicate that in over a third of organisations technology does not support effective performance management.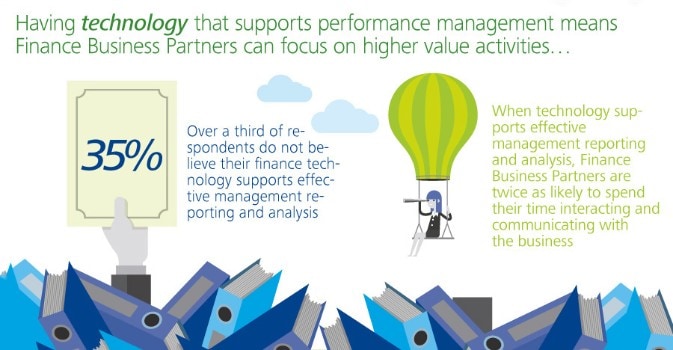 Build the right management reporting skills and capabilities
Challenges remain around the skills available to finance and the behaviours that are encouraged among finance professionals. Many CFOs tell Deloitte of their growing struggles to find the right candidates for financial planning and analysis and business partnering roles. Survey respondents overwhelmingly recognise this skills gap.
In almost half of organisations, Finance Business Partners spend the majority of their time creating and updating reports. Less than 20 per cent of respondents indicate that their Finance Business Partners currently spend the majority of their time interacting with stakeholders in the business.
'Having worked with numerous global organisations over many years it is clear that many CFOs, Controllers and their counterparts in the business are dissatisfied with the presentation, detail and effort required to create management reports.'

Simon Barnes, Partner, Finance Transformation