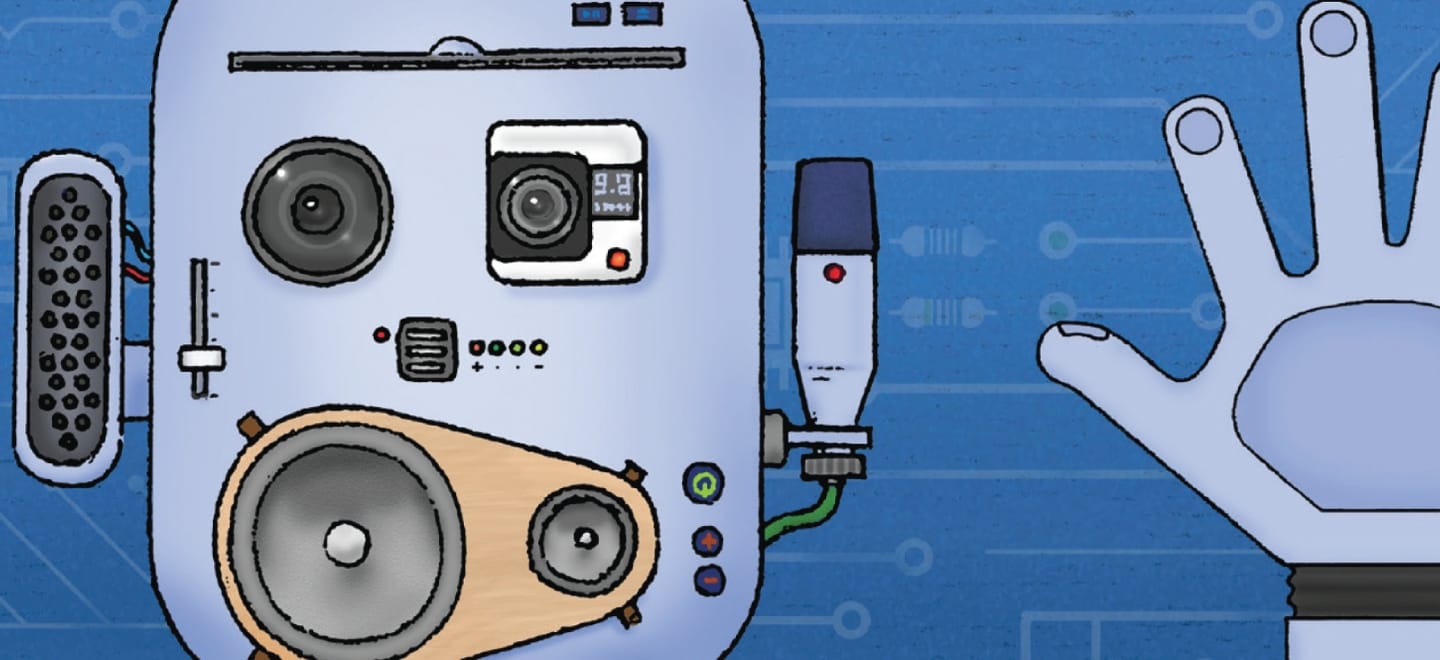 Article
The conversational enterprise
How chatbots can answer questions for both customers and employees
As customers, many of us have had conversations with chatbots—they're often our first point of contact when we have a question about our service or account. But we'll soon be interacting with them at work too, as companies adopt chatbots for internal enterprise and B2B applications.
From punch cards to arcane keystrokes to graphical user interfaces, the evolution of computing is partly a story of an evolution in how we interact with them. Today, a new computer interaction paradigm is rapidly gaining ground: chatting in natural language. Chatbots—software applications that engage in natural language dialogues with users and perform tasks on their behalf—are proliferating on consumer messaging platforms such as Facebook Messenger and WeChat platform as a means for consumers to interact with brands.
With so much attention focused on consumer chatbots, though, it is easy to miss a trend that will further amplify their impact: companies adopting chatbots for internal enterprise and business-to-business applications. These applications are bringing greater productivity and efficiency to a wide range of enterprise activities.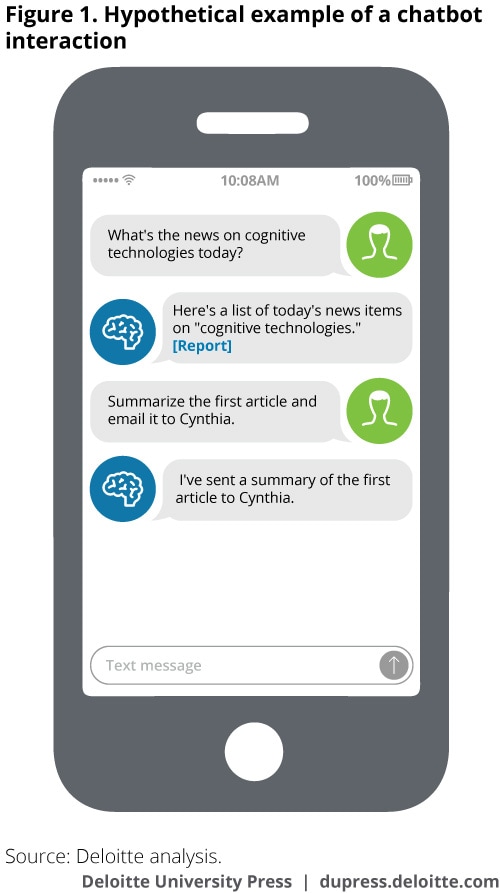 Signals
• In the last 18 months, conversational user interface (UI) start-ups have raised over $200 million; in Q2 of 2016, more money was raised than in the entire previous year1
• Messaging platform providers such as Facebook, Google, and Microsoft opened their platforms to chatbot developers in 20162
• Twenty-two percent of consumers claim to have used chat apps to interact with banks for services such as account activation and balance check3
• Enterprises across a diverse range of sectors, such as financial services,4 retail,5 and oilfield services,6 have deployed chatbots to automate internal workflows or business-to-business interactions
• SAP,7 Oracle,8 Salesforce,9 and ADP10 are developing chatbot UIs for their software systems
• In the past 12 months, dozens of start-ups have introduced customized chatbot solutions for enterprises across sectors and business functions11
A new dawn for conversation
Companies have used chatbots for customer service for a number of years, typically to replace or assist live agents in call centers or as an alternative to point-and-click interfaces for customers visiting websites. Now, a number of factors are ushering in a new era for chatbots.
Advances in cognitive technologies are making it possible to provide increasingly accurate and relevant automated dialogues. For example, speech recognition software has made advances in reducing word error rates,12 and machine translation has improved thanks to deep learning techniques.13 Improvements in speech and language processing technologies are making chatbots more capable, expanding their potential applications across the enterprise.
Meanwhile, some observers have recently identified "app fatigue"—a declining willingness among consumers to install and use new mobile apps.14 At the same time, messaging has emerged as a dominant online activity,15 with brands such as General Electric trying to take advantage of chatbots as a new consumer interaction channel.16
Enterprises are finding internal use cases
Beyond business-to-consumer applications, chatbots are increasingly being implemented in two other domains: business-to-business and internal. Leading companies have now begun to implement chatbots in B2B scenarios to, for instance, automate interactions with suppliers and vendors. They have also been deploying them internally, to automate processes in HR, IT, and procurement, or to assist knowledge workers in developing insights.
Take human resources. A technology company built a virtual HR agent to answer employee questions about pay, stock, benefits, and other HR programs.17 A retailer deployed a chatbot to interact with the company's approximately 450 call-center employees, who are able to use it to check their schedules, schedule time off, and inform managers about their unplanned leave or sick days.18 And the US Army has implemented an externally facing chatbot to save costs on its recruiting processes.19
Or consider business-to-business applications. A global bank used a virtual assistant to service external mortgage broker requests for information about bank products and policies.20 An oilfield service company has trained a virtual assistant to answer queries via instant messenger from its vendors about invoices and payments.21
Or finally, consider IT and customer support. A European bank deployed a cognitive agent within the IT function for identity access management and knowledge management.22 A Wall Street-based financial services firm deployed a virtual assistant to help associates answer customer questions more quickly.23
A wave of new enterprise offerings
Because of these developments, at least one research firm recently identified conversational interfaces as one of the most important technology trends.24 Corroborating this perspective, a wave of vendor activity has significantly increased the number of conversational UI offerings on the market.
Four broad categories of vendors are emerging. First, legacy chatbot providers such as NextIT25 and Aspect26 are expanding their applications to include dedicated enterprise solutions. Meanwhile, established technology vendors—such as IPSoft, which introduced the virtual assistant Amelia,27 and Microsoft, which is offering a suite of chatbot development tools28—are adding chatbot offerings. Additionally, a host of start-ups have emerged to serve the enterprise market, ranging from platform providers, such as Kore,29 to single-purpose apps, such as x.ai.30 Last, enterprise messaging providers such as Slack31 and Hipchat32 are promoting the use and development of chatbots that work with their platforms.
The building blocks of chatbots
The archetypal chatbot consists of a few key components. One of these is a front-end interface, which connects to a variety of channels, such as websites, email, SMS, or messaging applications such as Facebook Messenger or Slack, through which users interact with the chatbot. Another component is responsible for recognizing the user's intent. This element uses natural language processing and machine learning to parse user messages, collect relevant parameters from words and sentences, and map those to actions to take. Another component manages the dialogue by maintaining a representation of the conversational logic and keeping track of context. For instance, if a user asks, "Who is our biggest customer this month?" receives an answer, and then follows up with, "How much did they purchase last month?" the dialogue manager is responsible for knowing that "they" refers to this month's biggest client. Finally, the back end of a bot can interface with other enterprise applications, for example to update customer account information, or web applications, for example, to book travel.
The benefits of chatbots in the enterprise
Chatbots have a number of potential benefits over traditional GUIs. First, they can simplify applications for users. For example, rather than navigating through an interface or website to find information, users can just say or type what they want. Users can also compress multi-step tasks into a single command, such as, "Get my list of open opportunities this quarter, and send it to Janet." Second, the conversational UIs that chatbots offer may require little to no training, given that they understand and can interpret natural language and translate it into actions. Third, users can leverage chatbots to operate several business applications at once. For example, users can invoke multiple chatbot actions in conversation with team members at the same time.
Combined, those benefits allow for non-expert users to interact with many complex applications in an intuitive fashion in a single interface. This gives rise to powerful automation opportunities, where chatbots trigger actions and orchestrate processes across a range of applications through the course of dialogue in natural language. The business impacts can include reducing costs by increasing self-service, improving end-user experience and satisfaction, delivering relevant information faster, and increasing compliance with internal procedures.
Implications for enterprises and tech vendors
The emergence of chatbots in the enterprise has a number of implications.
Explore applications in the enterprise. Don't be blinded by the hype surrounding consumer chatbots. They are only part of the story. Technology and functional leaders should consider chatbots' ease of use and productivity benefits in an enterprise context as well. Applications worth evaluating may include B2B interactions with suppliers or customers, engaging recruits, serving internal users with IT or HR needs, and empowering finance departments. The "consumerization" of enterprise IT is likely to extend to the widespread adoption of chatbots inside the enterprise.33 Younger generations of workers grew up with messaging applications in their personal lives. They may well come to see chatbots as a preferred means of interacting with co-workers and enterprise applications alike.
Enterprise software vendors, take note. Vendors of enterprise software will want to monitor the chatbot trend. Several chatbot-friendly strategies are emerging, including integrating with enterprise chatbot products, as SAP is doing,34 and building native chatbot capabilities, as Oracle is doing.35
It's more than conversation. Deploying chatbots in the enterprise raises a host of potential issues that inevitably attend the deployment of enterprise software, including performance, scalability, and especially security. Enterprise chatbots may require access to user credentials, profile information, and enterprise data in order to perform useful functions. Any chatbot initiative must comply with enterprise cyber security standards.
Join the conversation
In recent months, hundreds of consumer brand companies have deployed chatbots, often with very limited functionality.36 This may seem like a fad—and to a degree, it may be. But cognitive technologies are continually improving, along with the ability to create ever more useful conversational interfaces. The era of conversational enterprise computing is dawning. The time is right for enterprise business and technology leaders to size up opportunities to put this technology to work in their own organizations.
Subscribe to receive more business insights, analysis, and perspectives from Deloitte Insights