Article
Royal Caribbean Cruises Newbuilding & Innovation
Designing and building new possibilities
A cruise is supposed to be the perfect vacation. How can Royal Caribbean design and build ships—so big that they're essentially floating cities—that keep ahead of guests' expectations? The Newbuilding & Innovation workgroup uses five of the nine practices to push the envelope on ship design.
Royal Caribbean Cruises Ltd. (RCL) is a global cruise vacation company that owns and operates three brands—Royal Caribbean International, Celebrity Cruises, and Azamara Club Cruises—and has ownership in three others: TUI Cruises, Pullmantur, and SkySea Cruises. These brands operate a combined total of 49 ships, with an additional 12 on order. They operate diverse itineraries that call on more than 535 destinations on all seven continents.1
RCL's success hinges on ships that are essentially floating cities. At 1,187 feet long (164 feet longer than the Eiffel Tower is tall), the flagship Harmony of the Seas boasts 23 pools, 18 decks, and a "Central Park" planted with 10,000 plants and 50 trees.2 Built with more than 9 million parts that require over 150,000 individual assembly tasks, such a ship at RCL can progress from CAD design to a revenue-generating vessel in only three years.
​LEARN MORE
Visit the full collection
Read Beyond Process
Listen to the podcast
Explore the practices and case studies
Subscribe to receive updates from the Center for the Edge
Create a custom PDF or download the full collection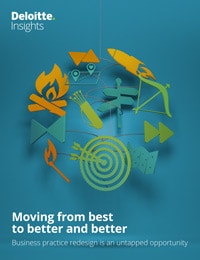 Building typically begins when a ship's design is only 30 percent complete. Aside from a few key structural elements, such as steel columns, every part of an RCL ship can be modified well into the build. From space-maximization techniques to guest traffic flow patterns, every detail is tested using 3D modeling, virtual reality (VR), and physical models until the final ship takes shape. Designing and building in tandem allows designers and engineers to collaborate intensely, pushing the boundaries of what is possible in ship design—with the ultimate goal of creating the best possible cruise experience for guests.
The workgroup: Newbuilding & Innovation
RCL's Newbuilding & Innovation workgroup—led by executive VP Harri Kulovaara, and composed of architectural designers, architects, naval architects, technical experts, financial specialists, and program and project managers—is tasked with pushing the edge in ship design as RCL expands its fleet. It strives to create ships that set new industry standards and help define the RCL experience for the next three decades of customers.3
Newbuilding & Innovation meets our key criteria for a frontline workgroup:
Size: For the recent Project Edge,4 the group (excluding the leadership team) had 12 RCL employees, five design consultants, and brought in members from 12 major architecture/design firms.
Sustained involvement: The 12 core members are fully dedicated to the workgroup. All internal and external design consultants and architects are considered key extensions of the group. Consultants are contracted for 100 percent of their time, and external architecture/design representatives spend 60–75 percent of their time on the project.
Integrated effort: The magnitude of the project, short timelines, and concurrent design and build approach requires a collaborative effort. All elements of the ship must work together and are interdependent, shaped, and refined collectively to achieve cutting-edge design and innovations. The final output is a product of the entire workgroup. The group leverages the functional diversity of its members to work closely with a vast extended network to bring in a broad array of perspectives from across the value chain.
It's about having the same vision—being able to look around the room and say that together we're going to build the most innovative and guest-centric ship that the world's ever seen.

—Harri Kulovaara, executive VP of maritime
The Newbuilding & Innovation workgroup focuses every day on pushing the envelope of what's possible when it comes to new ship design. Members look for innovative offerings that they can embed into their guest experience, largely in the form of structural design elements that would take their ships to the next level. For example, for the newest ship, the Celebrity Edge, the group developed the Magic Carpet, a "floating" café/bar that moves guests along the exterior of the ship without having to take elevators or walk across the ship.
The ships and their features are generally an important driver of guest satisfaction, and RCL's leaders regard the Newbuilding & Innovation workgroup as key to the company's future.
The results: Guest accolades for innovative design
The workgroup tends to live up to its name, generating ship design that the industry has recognized as striking and innovative. Travel industry reviewers have given RCL numerous awards,5 and its revenues have grown consistently for the past three years. "There's an intense amount of emphasis on guest satisfaction that is attributed to design, even if subconsciously," explains Diane Stratton, Newbuilding director of architectural design.
Members have also successfully pushed boundaries with the ships they design. For example, through their innovations, the ships have gotten larger, as measured by gross register tonnage and the number of staterooms. In 2016, the 227,000-ton Harmony of the Seas was the largest cruise ship ever launched—47 percent bigger than the largest ship a decade earlier.6 (The slightly larger Symphony of the Seas is scheduled to take its maiden voyage in March 2018.7)
The company's guest satisfaction measurements are at an all-time high. Its net promoter score—a measure of customer willingness to recommend the brand—has showed accelerating improvement, increasing by 3 percent from 2015 to 2016 and by 11 percent from 2016 to 2017 (see figure 2).8 RCL's focus on overall guest experience also seems to have paid off in positive feedback. In 2017, guests rated their overall experience an average score of 87.4 out of a possible 100. Over the past three years, this guest rating has trended upward, showing double the rate of improvement from 2016 to 2017 as from 2015 to 2016 (see figure 3).9
Practices in play
The Newbuilding & Innovation workgroup uses five intersecting practices: Commit to a shared outcome, Seek new contexts, Maximize potential for friction, Cultivate friction, and Bias toward action.
The Newbuilding & Innovation workgroup is committed to what RCL VP Kevin Douglas calls "operating on the edge of what's possible." Practically, that translates into a shared commitment to create the best possible experience for guests and crew through innovative ship design.10 That shared outcome guides every decision the group makes and helps to frame its actions.
The group uses the shared outcome to define ambitious ends but not the means. Members don't micromanage or focus much on key performance indicators in the day-to-day work. In addition to an overall commitment to keep raising the bar and pushing boundaries, there is a strong focus on maintaining brand distinction and standards. For the Celebrity Edge, the group has worked to establish a robust design and experiential ethos of "modern luxury" that gives members a sense of "what great is" and what it looks like when achieved. The group evaluates every design proposal, material, and art installation through that lens and assesses each item's impact on the final ship. The Edge drew media buzz and positive responses to PR events revealing new features, and the media buzz generated around the project suggested that the innovation and design initiatives were on target. As Harri Kulovaara notes, "No one here wants to repeat what we did the year before. Every year it's about working together to create something new, something that's better than before. If we aren't raising the bar, we aren't operating at our highest potential."
Unlike a hotel, where travelers might begin and end their day, a cruise ship is both where guests stay and where they vacation (when they're not at a port of call). In this context, every aspect of the ship—the transition from one space to another, the transformation of spaces, and the available experiences and activities—can mean the difference between a guest who feels confined and bored and one who feels free and delighted.
While the commitment to leading-edge ships and providing the best possible experience for guests and crew manifests across the organization, the Newbuilding & Innovation workgroup's shared commitment is to innovative design as a means of dramatically improving that experience. The workgroup names projects for the ships they're building to help maintain that focus and constantly remind themselves of the shared outcome.
The group attracts, and actively recruits, a particular type of RCL employee: "dreamers who are also drivers." Passion and a growth mind-set are qualities they seek because members need to challenge each other and collectively push boundaries to achieve innovation in ship design.
"We're looking for candidates who want to grow and develop with us," Kulovaara says. "To work in an environment where they'll be challenged to take things to the next level, where there's an opportunity for their voices to be heard."
To help push members' thinking, the workgroup also looks outside, aiming to bring in outside perspectives from others along the value chain, such as shipyard builders, as well as others at the forefront of fields not directly connected to the cruise industry, such as the airline industry, performing arts, culinary, casinos, or beyond. Members have learned that outside partners with whom they engage also need to have an orientation toward being challenged and learning from others. The approach creates a virtuous cycle, with partners seeking out RCL because they're excited to learn new things and work together to develop them into realities. Meanwhile, engaging with external perspectives tends to help the entire workgroup learn faster. Partnering with industry leaders, designers, and consultants in various geographical locations and time zones across the world can pose challenges, but the group credits combining these talents and skills as core to their evolution and success.
Newbuilding & Innovation workgroup members are constantly expanding their influences to gather inspiration for new ship designs. They spend a significant amount of time in new and stimulating environments, both within and outside the cruise industry. They also bring in designers across a range of design backgrounds, as well as futurists and trend forecasters, who challenge members to rethink their assumptions and expand their sense of the possible. Another key aspect of this relentless pursuit of new contexts are brand-oriented sessions in which group members, including executives, are brought in to take part in think tanks organized for in-depth discussions and problem-solving.
For inspiration on assembly practices, for example, group members have turned to engineers in the auto industry. For cabin design inspiration, they've tapped the work of airline designers who deal with even more confined spaces—and developed a set of intriguingly curved stateroom interiors inspired by how airlines design premium cabins.
The workgroup also explores new contexts in its own environment, reorganizing workspaces to encourage cross-pollination among project managers, designers, and financial analysts. The result is increased collaboration and new avenues for interaction outside functional roles. Last, the group seeks "outside contexts" on its own doorstep: Whenever a ship is dry-docked for repairs or upgrades, a delegation from the workgroup lives aboard the ship 24/7, so members can experience all changes firsthand.
To avoid replicating the status quo and to create the best possible experience for guests and crew, the Newbuilding & Innovation workgroup overtly encourages openness and honesty, for everyone from the group leader to summer interns. To create a feeling of safety, members take the approach during ideation that no idea is a bad one. They marry this with open dialogue about the ideas and with a culture and expectation of actively engaging with and challenging ideas. Sometimes even the oddest suggestions inspire others to look at the problems in a different manner, ultimately leading the workgroup to a solution. Members are encouraged to express disagreement early and often, but the focus remains on the design and the guest experience, not on the individual.
Given the group's many tight deadlines and global operations (not to mention multiple time zones, cultural differences, and vacation schedules), it's an ongoing challenge to simultaneously give everyone a voice, ensure alignment, and discourage work from being done piecemeal. One tool for addressing these issues and generating productive friction is to hold charrettes—intense periods of collaborative design rooted in the culture of architecture. In a charrette, all workgroup members gather in a conference room at headquarters until they've made sufficient progress. These sessions can last upward of two weeks, although the group has found three to four days to be the optimal duration to balance efficacy, creativity, innovation, and collaboration. The all-hands meetings and design sessions are intense but productive. The first day actually begins with some confusion as creative minds come together and friction starts to develop. The second day is generally when the momentum in the brainstorming and problem-solving process gets into gear as more perspectives come out and members really begin to build on each other's thinking. The final day is when the great ideas start to take shape and solutions become clear.
Workgroup members report that bringing everyone together in this way increases transparency, boosts collaboration, and heightens members' sense of ownership, while giving everyone a sense of the larger project landscape. In a charrette, every participant has greater visibility into what's been done, where the issues are, and where things are headed. Being in the same room also makes it easier to have candid conversations, voice disagreements, and challenge each other's ideas.
VP Kevin Douglas explains, "We got more done in those two weeks, working shoulder to shoulder, than we could have possibly completed in two months from afar." Hosting several such gatherings each year has helped increase the group's productivity, removed silos, and supported collaborative, interdependent efforts rather than isolated work.
For workgroup members, charrettes have become an increasingly important means of taking ship design to the next level. They aren't always fun—in fact, they're often exhausting—but everyone involved agrees that they generate a friction that allows participants to push the edge productively.
The Newbuilding & Innovation workgroup has created a culture of action in numerous ways. They start building a ship as soon as 30 percent of the total design is complete. Indeed, there's no such thing as a 100 percent finalized blueprint; Members are constantly improvising and experimenting. The concurrent-design approach, in contrast to the sequential, multiyear process of traditional shipbuilding, is designed to ensure that the guests of the resulting ship would get to experience the latest innovations and technologies, not the best thinking from four years ago.
Group members go into each project acknowledging that the industry is dynamic and that things tend to change based on the competition, economic environment, and customer value trends—whether it's a newly available high-tech material or a designer's great idea that leads them to scrap an already-built component. Members treat these developments as opportunities and monitor them closely with the brands and shipyards to attain reliable and accurate information for vessel forecast, capitalization, and finance. The group budgets for significant changes to materialize. As Kelly Gonzalez, VP of design, explains, "This bestows permission to experiment, exploring new directions at any point in the process—always in the interest of the ship and the customer." Although trial and experimentation are encouraged in order to deliver the best guest experience, the teams follow a rigorous risk-assessment process by conducting chief engineer and design reviews as well as consulting with third-party specialists.
Throughout the process, the workgroup trusts and empowers both designers and builders to act in the best interest of the shared outcome in order to prevent delays caused by seeking unnecessary approvals. On such a massive and complex project, there are many ways things can go awry. Within the group, however, members encourage a culture of being open and transparent about how activities are progressing. There's no shame in admitting something isn't working, then asking for help or convening members to consider how to approach a problem differently as well as whether the failure holds useful learning for other aspects of the project. Communication and the commitment to a shared outcome of groundbreaking design and maximizing guest experience, as well as a shortened time frame, can help group members seize opportunities using sound judgment and overcome any tendency to hide or minimize experiments that don't work as expected.11
The workgroup has found multiple ways to maximize action and risk-taking while minimizing the risks normally associated with rapid action. Extensive use of computer modeling and virtual reality supports simulation of thousands of solutions in only a few hours; VR also supports firsthand experience of the effect of individual design choices on a ship's overall look and feel. The resulting radical reduction of time and resources can allow members to identify risks much earlier in the process and avoid overcommitment to sunk costs on experiments. The ability to maximize action while minimizing risks has been key for the workgroup's efforts to design innovative and sophisticated ships that can host thousands of guests' memorable vacations.
Subscribe to receive more business insights, analysis, and perspectives from Deloitte Insights