Creating a successful ERP reporting strategy
Guiding principles for robust enterprise reporting
With more companies facing overwhelming amounts of enterprise data, it's critical they chart a course for building a sustainable ERP reporting strategy. Learn how a successful reporting strategy—one focused on clean, consistent, and well-defined data—can position companies to drive growth, profitability, and overall competitiveness.
Building a future-ready ERP reporting strategy
Today, companies are inundated with data and are looking for better ways to get to near-real-time reporting, data visualization, and valuable insights. This information can help facilitate decisions that will drive competitive advantage, growth, and profitability. Leading companies are taking the next step and using analytics to identify issues and trigger automated responses to improve their processes. There are numerous digital technologies available today that are being leveraged to achieve that objective. Many of these are listed here and were previously outlined in Deloitte's Reporting in a digital world report.
ERP Strategy: Reporting that drives the business forward
Technologies are often implemented without yielding the results envisioned and become overly complex to maintain as new needs are built into an inflexible architecture. Why? Simply put, it's the lack of an overall ERP reporting strategy to integrate, synchronize, govern, and flexibly match structure to objectives. What's more, while companies are inundated with data, much of that data is in disparate, nonintegrated systems. The data in existing ERPs is not captured or attributed in a common, standardized model, which then requires data mapping, reconciliation, and harmonization. In many cases, some data simply isn't captured at all.
Let's explore some of the common challenges and how a reporting strategy can help. Experience shows many reporting issues are driven by:
Poor data quality
No single source of truth
Poor enterprisewide visibility
Technical focus

Misaligned chart of accounts
Misaligned and ad hoc reporting hierarchies
Ineffective reporting governance
Data not captured for reporting

Companies that don't address the issues above may not have the information needed to run the business. Worse yet, information may be interpreted differently across the organization, resulting in confusion, mistrust, and missed opportunities.
Let's start by defining what it means to have a successful enterprise reporting strategy, one that:
Delivers accurate information
Moves beyond financial analysis and into business analysis
Provides a single source of truth
Enables self-service reporting and analytics

Includes reporting/analytics governance that ties the data model to analytics and KPIs

Defines a roadmap to bring the insights to life
Is prepared to adapt to how information is reported

To build a successful ERP reporting strategy, companies must start by accounting for different stakeholders across the organization. Each has unique information needs.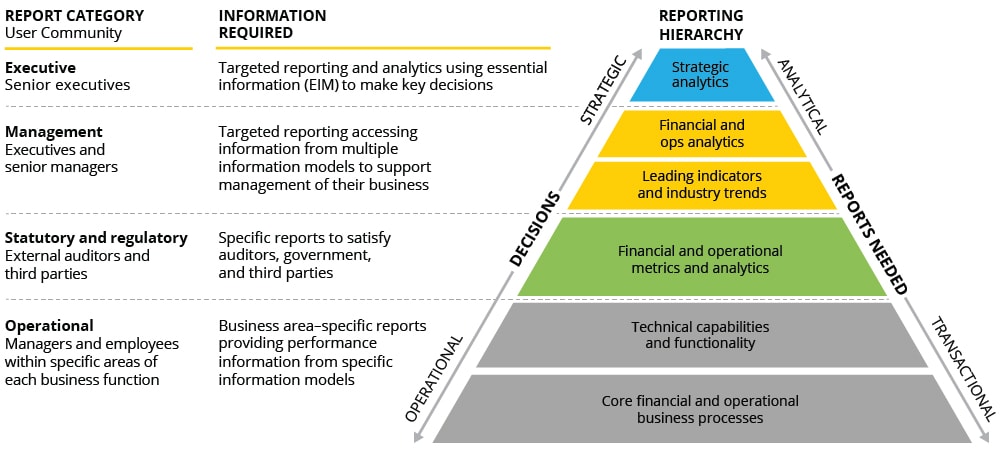 Click image to enalrge
Four key elements of a successful reporting strategy
Once you understand the needs of your stakeholders, you need to account for the four key elements of a successful ERP reporting strategy:
Guiding principles for designing a reporting strategy
As companies define their reporting strategy, there are a few guiding principles to consider:
One version of the truth: Integrate data from multiple sources into a single data platform to enable true performance measurement across a common set of data elements. Common data platform enables multiple roll-ups (alternate hierarchies) of the same data for analysis to provide factual understanding and confidence in all downstream reporting applications.
Dynamic reporting: Reporting tools should have the flexibility to perform dynamic queries and generate reports to address the majority of operational, management, and analytical information needs. This will avoid manual creation and consolidation of global management reports and improve timeliness of information, freeing up more time for analysis.
Information consistency and governance: Leverage data and reporting governance processes, standards, and policies to establish a consistent baseline and ongoing measurement of data quality and reporting packages. Avoid complicated metric-accumulation procedures in order to create more timely and reliable performance metrics.
Rationalized toolsets: Limited toolsets reduce up-front training effort, promote transferability, and improve the ability to maintain and reduce support costs.
Common data architecture and defined access: Access to common data elements should be restricted by security roles to ensure users have the appropriate view of enterprise information. Access to ad hoc querying tools should be limited to those with a business need. Additionally, the ability to publish reports should be controlled and governed by a central group.
Global architecture: The reporting platform and related tools should be enabled by an architecture that will support diverse (global) users within the finance organization with unique reporting requirements. This will allow for the creation of global and enterprisewide reporting and technology standards across multiple business units, countries, and locations (especially for finance data and reporting) in order to avoid conflicting interpretations.
As mentioned, thinking through chart of accounts (CoA) design is a key part of reporting and ERP strategy. Read more about the guiding principles for building a comprehensive CoA in our report on optimizing ERP through your chart of accounts design.