By Reed Deshler, Don Miller, Diane Sinti, Maya Bodan, Nathan Mesaros, Yuki Iwase, and Kimberly Ayres
The world is constantly changing. AlignOrg and Deloitte are helping clients prepare for challenges ahead by transforming their organizational structures and ways of working. Our joint blog series explores how organizations can strengthen their resilience.
The past two years have radically challenged the workforce experience. Companies are facing critical challenges as they rethink their relationship with the workforce, the workplace, and the work itself. Now, companies not only need to keep their workforce productive but also keep it motivated and engaged or risk losing them to the tumultuous job market.
So far in this three-part series, we've explored how companies can intentionally build resilience to weather the changes ahead. In part 1 and part 2, we discussed ways companies can increase their organizational agility and re-architect the work itself. Here in part 3, we'll examine how to reimage your ways of working with the human experience at the center.

Happy workers = happy customers

The workforce experience is inseparable from the customer experience and business outcomes. Companies are realizing that engaged workers can create happy customers, and happy customers could translate to higher revenue. The numbers speak for themselves: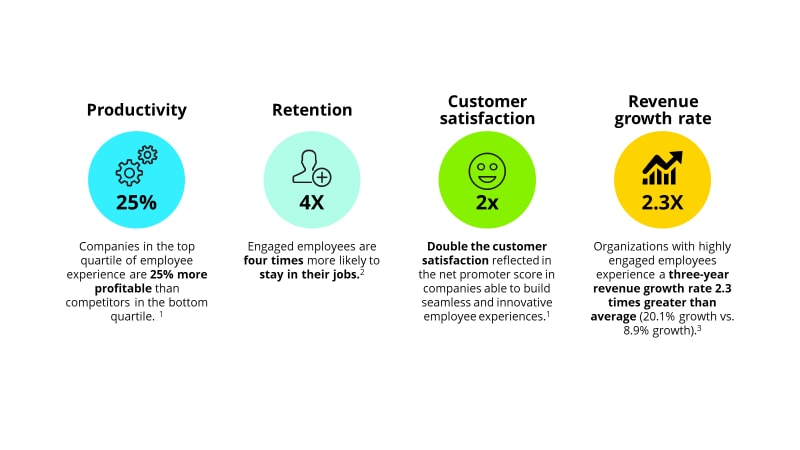 Designing ways of working with humans at the center starts with involving the workforce in the design process itself. For instance, leaders should view workers as "customers" of a final organizational design "product." AlignOrg's book, Mastering the Cube, introduces the idea that leaders can use a Rubik's Cube model to easily visualize and influence their organization through six systems: 

Work processes: How work is done by an organization, including the work itself, the workplace, and the technology needed to get the work done
Team structures and governance: What team structures are in place and how the organization makes decisions
Information and metrics: What the data says about the organization, as well as the technologies and tools for using, sharing, and storing it
People & rewards: How an organization maximizes the potential of its workforce and advances its well-being, including talent acquisition, development and training, performance management, and success
Continuous improvement: How an organization dynamically addresses changes in its market, industry, infrastructure, and people
Culture: What the organization holds as shared beliefs, behaviors, and norms
However, it's easier said than done. The full talent continuum consists of traditional employees, part-timers, gig workers, contractors, and crowdsourcing, as well as hybrid teams powered by technology. One of the challenges companies face is how to maintain a cohesive culture, performance management, and career pathing with mixed teams. To ensure that these dynamic workforce experiences are accounted for, leaders need to treat them as an integrated workforce ecosystem, meaning they need to have an inclusive process to manage their ways of working.
How? Consider the following steps:
Decide
Start by conducting a baseline assessment of the workforce experience, its needs, and preferences. This can be accomplished through interviews, focus groups, and collecting survey data from a diverse population. Workforce experience should also be measured using feedback tools that can continuously measure changes in how workers feel (i.e., a consistent feedback-loop mechanism). While gauging workforce sentiment is crucial, it's impossible to address every concern at a large company. Leaders should ask themselves whether the challenges are unique to the person, whether the problems are widespread, and whether solutions are best addressed at the lower levels of the organization, where the issue may be concentrated. This way, leaders are thoughtful, selective, and in line with company values and ideals while also co-creating with their workers.
Design
Drive an inclusive design process by ensuring organization members are involved in the design work and deliberations. An inclusive design process will naturally generate empowerment, minimize executive tunnel vision, and effectively "start the clock" on change management—before the design is complete.
Identify customer and workforce personas and design persona journeys for both the customer and employees. This is where organizational designers put the person in the center and use feedback data to test organizational changes. Questions to encourage this feedback might be "How would this persona develop in the new organization?" or "How would this design choice affect this customer or employee persona?"
Design the organization for the needed capability—rather than selecting roles based on "names in frames"—to relinquish unconscious bias. Consider upskilling your current talent or cross-training to invest in your current talent development and career paths. Work in sprints, so progress is made iteratively, and learnings are incorporated quickly into the next versions of the design (the "product").
Deliver
To consider the organization design as the product, you'll need to start the process the same way other products are created: with a prototype. Socialize your design with key stakeholders in the company before launching broadly, remembering to allow for time to iterate and improve. Know that workers will be resistant to change, especially in cases where it may add more work with less (or no) payoffs, new roles with less satisfaction, or more transparency but less power.
Communicate progress in the transformation journey as decisions are made. Think through the multiple personas and how they benefit from the given change. Next, listen to your workers. Ask them: "What are your concerns and fears?" In addition to driving greater feedback, the transparency will help workers swiftly adjust to the new ways of working while also being a part of the process. This provides a two-way conversation and will help create a trusted worker-employer relationship throughout the design process.
This sustainable company-workforce relationship is one that weathers through varying marketplace conditions and evolves with the times. An adaptable organization is designed to take into consideration a changing worker and customer base, re-architecting work to ensure a meaningful worker contribution, and listens to the holistic needs of its people through co-creation and transparent communication at each step of the way.
Endnotes:
1"Building Business Value with Employee Experience," MIT CISR Research Briefing 17, no. 6 (2017).
2Christina Rasieleski and Matthew Deruntz, "High Impact Workforce Experience Findings," Bersin, Deloitte Consulting LLP, 2020.
32017 Deloitte Global Human Capital Trends, "Navigating change: How CFOs can effectively drive transformation," CFO Insights, Deloitte, 2019.
AlignOrg Solutions: AlignOrg Solution is a consulting firm that specializes in helping clients clarify strategy, design and align organization systems and choices, and lead transformational change to drive growth and marketplace success. Learn more about AlignOrg Solutions and our work and thinking here.
Deloitte: Deloitte's Human Capital professionals help clients reimagine the work, workforce, and workplace of the future – we make work better for humans, and humans better at work. We work with executives to translate their business strategy into optimal structures with clear roles and responsibilities. Learn more about our Organization Design solutions here.
Authors: