Analytics for CRE and Facility Management
Insights to inform corporate real estate management strategy
The complexity of corporate real estate (CRE) portfolios presents challenges for organizations looking to make informed and timely data-driven decisions. CRE Analytics by Deloitte consolidates disparate data into leading practice dashboards, enabling leaders to derive actionable insights and identify opportunities to increase real estate portfolio efficiency and enable better facilities management.
Transforming CRE management from siloed to streamlined with insights
Corporate real estate portfolios can be complex, often involve multiple asset types, and frequently leverage singular technologies utilized in a siloed manner, which can result in a fragmented view of the portfolio and a lack of useful information.
This has presented numerous challenges for organizations as they look to communicate between systems, glean insights from their data, and understand how they compare in the competitive landscape. How many times have you heard one of the following?
Our data resides in too many systems that do not communicate with each other.
We have lots of great data, but need to derive actionable insights.
Too much effort is involved in creating reports from our data.
We do not know how we compare to others.

CRE Analytics by Deloitte can help address these issues. Corporate real estate leaders can increase the efficiency and utilization of facility and workplace assets through multiple dashboard views that display key data and performance metrics, providing a comprehensive view of their real estate portfolio and operations.
CRE Analytics by Deloitte
An integrated view of your real estate and facilities portfolio to inform CRE strategy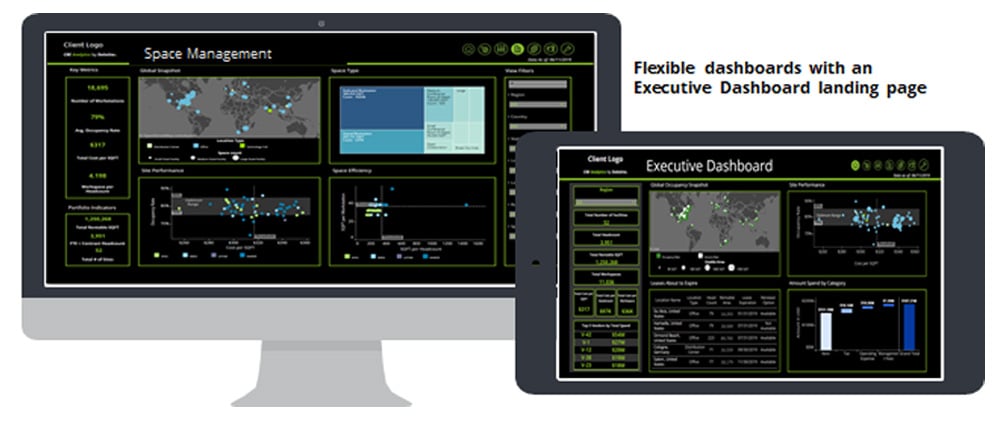 CRE Analytics by Deloitte offers multiple dashboards, each providing a comprehensive look across your real estate and facilities portfolio, including:
Executive View: Comprehensive portfolio snapshot of leading practice KPIs and facility data.
Space Management: Visual overview of amount, size, and type of spaces in your portfolio.
Occupancy: Synopsis of daily, weekly, and monthly utilization rates and occupancy trends.
Portfolio Management: Display of financial impacts, options, and time frames for your portfolio.
Project Management: Tracker for active capital projects that highlights key metrics and risks.
Facilities Management: Snapshot of maintenance costs, work order efficiency, and vendor activity.
What can CRE Analytics do for your organization?
CRE Analytics can help you:
| | |
| --- | --- |
| | Standardize, track, and monitor key performance metrics across the real estate portfolio. |
| | Identify cost-saving opportunities and drive facility efficiencies. |
| | Benchmark facility performance and costs against the global portfolio. |
| | Drive informed real estate decision-making powered by up-to-date data and analytics. |
| | Derive actionable recommendations through ongoing strategic advisory and support. |
The Deloitte difference? Managed analytics.
With CRE Analytics, you don't just get a tool. You get access to a broad Deloitte team of subject-matter specialists spanning facilities and operations, workplace and portfolio strategy, and real estate technology. What's more, this team can help you create an actionable, data-driven plan to make the most of the insights CRE Analytics can provide.